Racing a Spirited Romp
It's day four of the Panerai Classic Regatta. Just outside of English Harbor, we're sailing on the southern shores of Antigua. I am aboard Spirit of Bermuda, a 2006 build that replicates a Royal Navy sloop-of-war. Manned to the nines, her crew includes Captain Paul Bracken, First Officer James Doughty, one of the Bermuda Sloop Foundation founders Jay Kempe, additional crew, plus numerous guests who heave around sails, trim, scamper to the high side and revel in the best of coastal views. Spirit goes into the day with 2-3-2 record stacked against the massive 64-metre Adix, a Holgate three-masted gaff schooner, and Columbia, a 141-foot production of W. Starling Burgess/John W. Gilbert & Sons.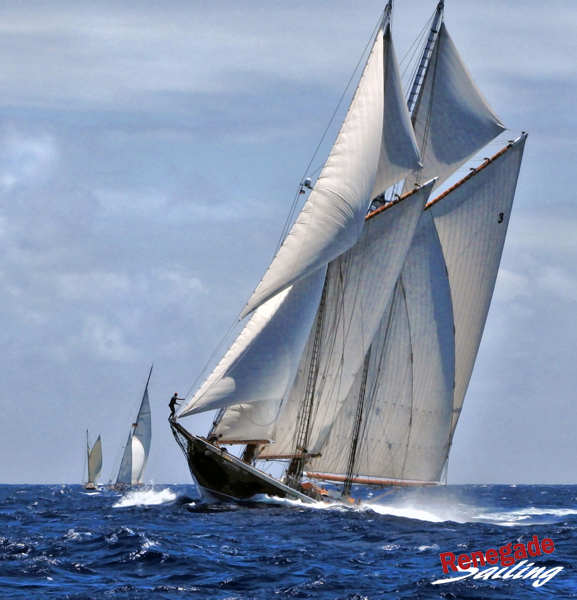 This is a fairly wet boat when compared to my first two days' ride on staysail schooner Eros. Eros is stout and steady on the waves at 185 tons. Spirit of Bermuda is spirited at 88 gross registered tonnage, so she's got more bounce for the ounce, and seems to love rolling and sliding over the waves. Today's photography will include the usual DSLR, plus a point and shoot—which truly means aim, hold down trigger and hope. Above is one OK point and shoot catch of Columbia as she rears up on her haunches.
A System of Communication Aboard
Sailing with Spirit of Bermuda made me privy to a front-to-back and back-to-front coordination system that's required on a long boat that's not only racing, but relying on a volunteer crew (an essential part of Spirit's business charter is to routinely welcome aboard guests). Success results from communication: defined instruction which originates from the helmsman and is then precisely relayed forward.
As to that chain of command, I perceived two core crew who 'owned' portions of the boat and oversaw operations within those sections—for example forward boat to watch staysail trim. Constantly attentive, each was constantly ambulatory in order to receive instruction from the helmsman, front of boat or fellow roving peer. Two additional crew members remained more or less aft to assist with the mainsail, plus observe and remain ready to assist where needed. Also of note was the man calling spinnaker trim, who tended to stand just forward of midship, lee side to keep constant view and line of sight communication with trimmers.
A large boat being what it is, not only is it near impossible to find a single spot that offers a clear view of all sails, but conditions can change at any moment. Kempe, a founder who is intimately familiar with the boat, remained on the move while racing—surveying telltales, relaying information between points, talking with guests. And regarding all the guests the day, for the most part each stayed put in his or her station.
It was a treat to observe how the core Spirit of Bermuda team rolled out its education and system of communication to individuals who had likely not sailed together, and possibly had not sailed a boat of this layout.
Sail Plan for Sail Planes
Spirit of Bermuda has three planes of sail (four if you toss up the spinnaker). Each benefits by working in unison and sympatico to one another. To illustrate an aspect of Spirit's communication plan—there were instances when the helmsman would call out changes in speed (10, 10.1, 10.2) while the mainsail trimmer made adjustments. That call-out not only informed the main trimmer, but alerted the roving crew of sail plan changes aft that would likely necessitate change forward.
About Spirit of Bermuda
The Spirit of Bermuda is a modern-built Bermuda sloop, and replica of a Royal Navy sloop-of-war depicted in a well-known 1831 painting. A type of small sailing ship built in Bermuda between the seventeenth and nineteenth centuries, this vessel was fitted with a gaff rig, a combination of gaff and square rig or a Bermuda rig. These vessels were often used by Bermudian merchants, privateers and seafarers. Unlike the original vessel in the painting, which was likely built almost entirely with Bermuda cedar and a plank-on-frame method of construction, Spirit of Bermuda was constructed using readily-available woods including Douglas fir and teak. She benefited from the modern 'cold-molded' method of wooden boat fabrication. Spirit of Bermuda is 88 feet long, has three masts and carries 4,500 square feet of sail. She is under care of The Bermuda Sloop Foundation.
About The Bermuda Sloop Foundation
The Bermuda Sloop Foundation was founded in 1996 by Malcolm Kirkland, Alan Burland and Jay Kempe. During its first eight years, as the organization continued to grow courtesy donations from the community and patrons, the founders set to work determining the boat's design. In 2004, Rockport Marine in Rockport, Maine, was contracted to build a ship per the lines of the vessel prominent in an 1831 painting by John Lynn. "Spirit of Bermuda" was completed in August 2006 and sailed to Bermuda in October. She operates both locally and internationally doing sail training cruises. The Bermuda Sloop Foundation has three missions: (1) to support Bermuda's youth through structured educational programmes on "Spirit of Bermuda"; (2) to foster an appreciation and understanding of Bermuda's unique maritime history; and (3) to create an icon for the country around which all can unite and celebrate.